With the remarkable increase of data, novel tools and metrics are needed for comprehensive and systemic analyses of converging business ecosystems. Knowledge discovery is the computational process of identifying valid, novel, interesting, potentially useful and ultimately understandable patterns in data. The objective of our study is twofold. First, we introduce the emerging domain of "big" business ecosystem data. Second, we describe the success and challenges that we encountered in analyzing this data using state of the art analytics and visualization techniques. Specifically, we illustrate our computational knowledge discovery approach with case studies of innovation, competition, and convergence in the mobile ecosystem. We conclude with theoretical and managerial implications and identify opportunities for future research in the emerging domain of computational enterprise science.
Lab: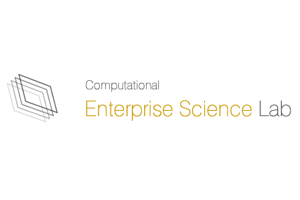 Students:
Terrance Law, Tim Major, Arjun Srinivasan, Biswajyoti Pal, Tyler Labean
The Computational Enterprise Science Lab focuses on the design, analysis, and management of complex enterprise systems (e.g. organizations, supply chains, business ecosystems) using information visualization, modeling/simulation, and system science approaches.