Students:
Harshil Shah, John D Britti, Daniel Nkemelu, Amy Chen, Saira Poonnen, Ciabhan Connelly, Arpit Mathur, Lillie Zhou, Max Karpawich, Matthew Lim
We are inventing new software platforms and real-world processes to help identify, track, and respond to digital threats to democratic development. In particular, we focus on hate speech and disinformation during election periods in emerging democracies. Our tools include new augmented AI systems to assist human trackers as they monitor multiple social media feeds in semi real-time.
Myanmar has experienced a recent explosion in mobile internet access. Enabled by this rise in network access has been a wave of disinformation, hate speech, attacks on free speech and human rights groups, and physical violence. The UN's independent international fact-finding mission on Myanmar has identified the significant negative role that hate speech and disinformation has played, especially when communicated across social media. This has been most clearly evident in the use of social media to convey hate speech and coordinate attacks against linguistic and religious minority groups - accumulated actions which the United Nations labeled as genocide. This extreme social stress in Myanmar, the particularly fraught position of minority populations, and the specific and meaningful range of clearly identified digital threats underpin the relevance of this particular case study and field deployment.
Software text tools for the Myanmar majority Burmese language are immature and we are integrating and innovating on text analysis and natural language processing tools for Burmese. We are alo developing new machine learning modules to assist trackers specifically in identification and monitoring of hate speech and disinformation. These NLP and ML engines help to focus trackers' attention on suspect posts, ensuring a more manageable process and enabling semi real-time response. The project is also developing new systems to assist in analysis and traffic categorization for non-real-time reporting. These modules, for instance, can be used to provide daily or weekly reports of aggregate hate speech activity in the time period around a national election. Such reports could help inform the work of national election commissions, social media platform providers, and the international electoral observer community.
Lab: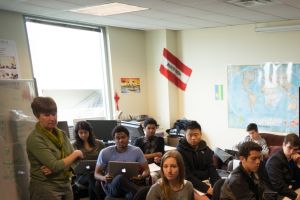 Students:
Harshil Shah, John D Britti, Daniel Nkemelu, Amy Chen, Saira Poonnen, Ciabhan Connelly, Arpit Mathur, Lillie Zhou, Max Karpawich, Matthew Lim
The Technologies and International Development Lab at Georgia Tech researches the practice, the promise, and the peril of information and communication technologies (ICTs) in social, economic, and political development. We study the risks and rewards of ICT systems for people and communities particularly within Africa and Asia. We explore issues of rights and justice in a digital age. And we examine new forms for inclusive innovation and social entrepreneurship enhanced through digital systems.
The T+ID Lab is an interdisciplinary community bringing together computer and social scientists with design and policy specialists. We collaborate directly with stakeholders outside of the Lab to critique technologies, invent new ones, and research how and why (or why not) ICTs can serve as a tool to empower, enrich, and interconnect.