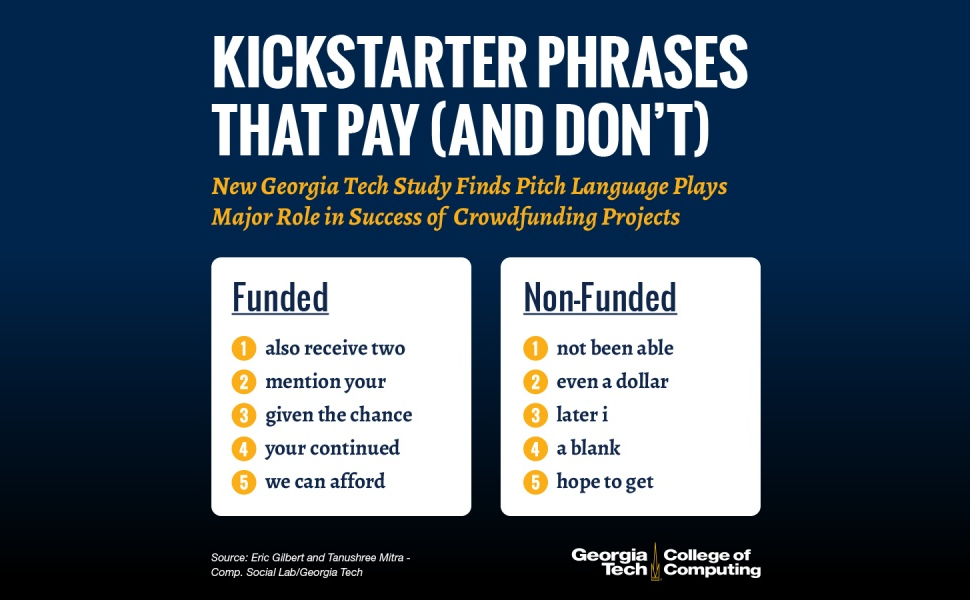 Kickstarter phrases that pay (and don't)
Researchers at Georgia Tech studying the burgeoning phenomenon of crowdfunding have learned that the language used in online fundraising hold surprisingly predictive power about the success of such campaigns. As part of their study of more than 45,000 projects on Kickstarter, Assistant Professor Eric Gilbert and Computer Science doctoral candidate Tanushree Mitra reveal dozens of phrases that pay and a few dozen more that may signal the likely failure of a crowd-sourced effort.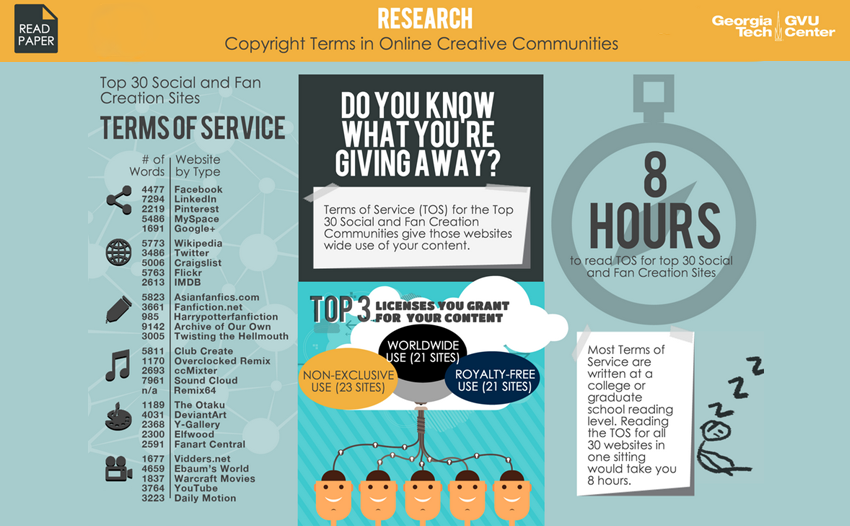 Do you read terms of service? Maybe you should.
A key usability problem for websites is the complexity of their terms and conditions. Within the HCI community, attention to this issue to date has primarily focused on privacy policies. Human-Centered Computing doctoral candidate Casey Fiesler and Professor Amy Bruckman begin to build on this work, extending it to copyright terms. With so many people posting everything from status updates to digital art online, intellectual property rights are increasingly important to the end user. The researchers conducted a content analysis of 30 different websites where users can share creative work, focusing on the licenses and usage rights that users grant to those websites.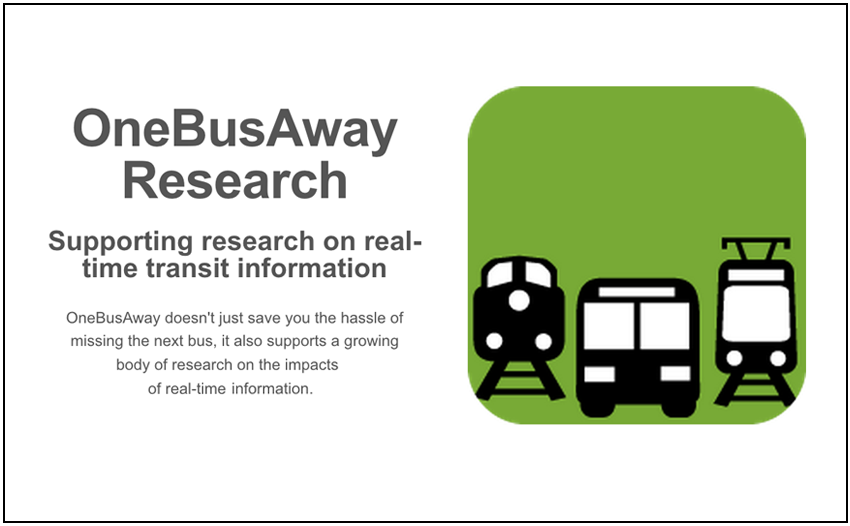 Integrating real-time information for metro Atlanta public transit
The mobile app OneBusAway, which tracks public transportation in real time, added arrival times for MARTA trains in 2014 in addition to the MARTA buses and Georgia Tech shuttles already featured in the app. The app also added the new Atlanta Streetcar route (which opened at the end of 2014), continuing to grow its network of real-time transit information. OneBusAway is being intregrated into Atlanta's transit network by Georgia Tech researchers, led by Assistant Professor Kari Watkins. The app's developers plan to add bus data for Georgia Regional Transportation Authority (GRTA) Xpress, Cobb Community Transit (CCT), Gwinnett County Transit, the Atlantic Station shuttle, other local university systems, and other systems equipped with GPS tracking. The research has a growing national footprint with the app being used in other major spots such as New York, the Seattle area, Tampa, and elsewhere.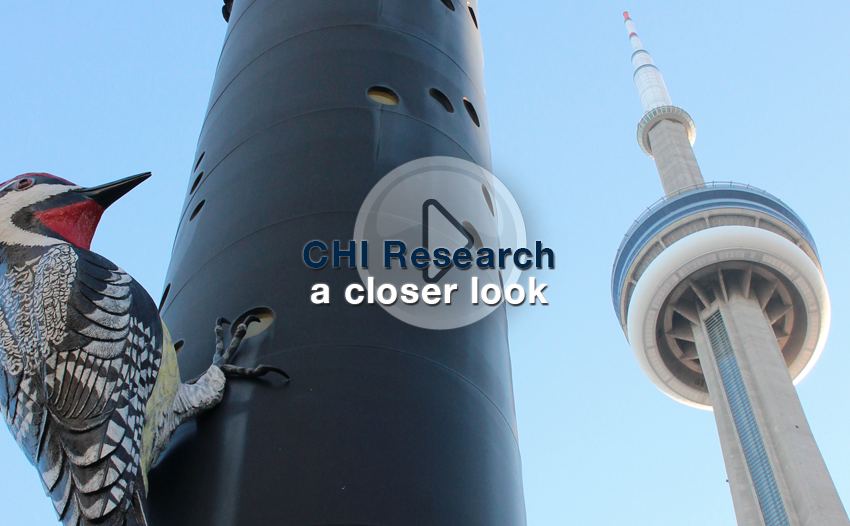 CHI 2014 - One of a CHInd
Georgia Tech researchers delivered an incredible lineup of work in human-computer interaction at CHI 2014 showing the growing complexities in technology use and emerging needs of end users. Researchers talk about their work and the contributions Georgia Tech - a Top 10 institution with accepted research at CHI - is making to the field. Also, CHI 2014 saw the debut of the Georgia Tech-curated wearable computing exhibit "Meeting the Challenge: The Path Towards a Consumer Wearable Computer."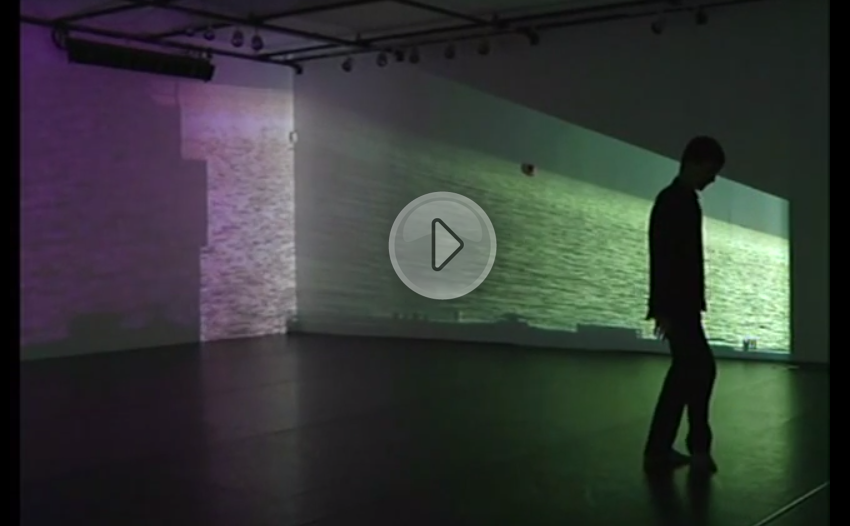 Emerging app-based performance art for shared experiences
Choreographer and former ARTech resident artist Jonah Bokaer finished the first part of a two-year campus residency at Georgia Tech where he is creating "Applied Movement: App Development for Choreography." Working with the Ferst Center, he is developing an app called Crowd Codes, a framework consisting of software components that enable groups to participate in a shared movement-based artistic and educational experience by using their mobile phones. He has conducted campus workshops and community outreach in addition to the mobile app collaboration, which is designed to explore crowd movement in public spaces on a large scale.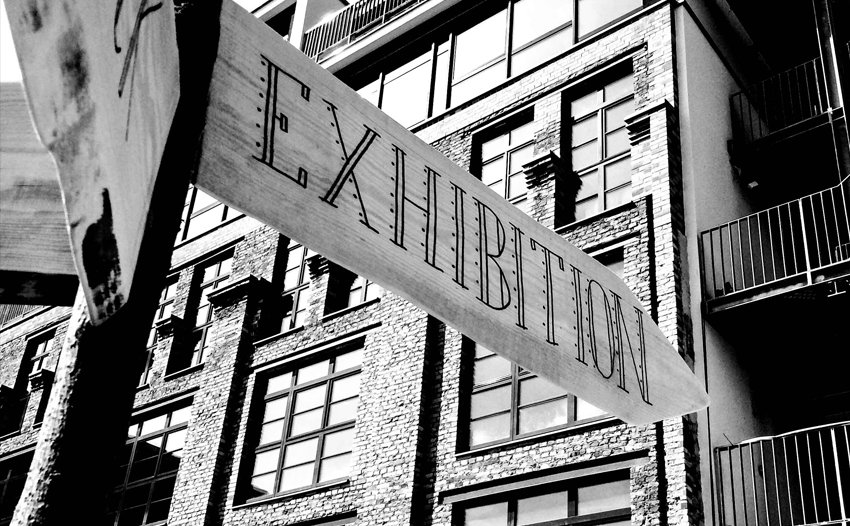 Wearables exhibit tour
Commercial products for wearable computing technology - Apple Watch and Google Glass being the most high profile - are now being widely announced and becoming a part of the public consciousness. Georgia Tech researchers, led by Professor Thad Starner and Research Scientist Clint Zeagler, curated a one-of-a-kind collection of wearable technology in 2014 to show the path that the technology has taken through the decades and in different industries. The exhibit - "Meeting the Challenge: The Path Towards a Consumer Wearable Computer" - was shown at several major international venues (starting at CHI 2014) during the summer and fall. In Germany, it was featured at the Factory Berlin at the Berlin Wall, the Christian Democratic Union Headquarters, and the Deutsches Museum. Next, it made its way to the World Economic Forum in China. The exhibit's public debut in the United States is at Georgia Tech this month through Jan. 23.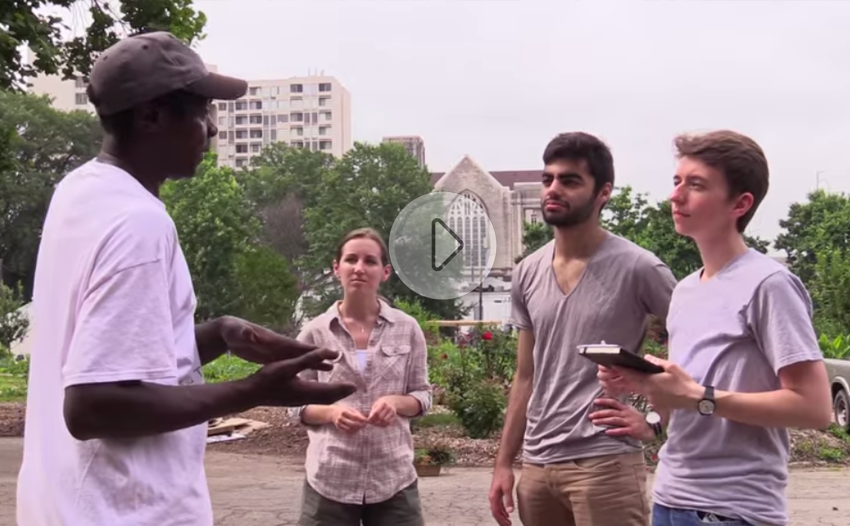 Data science for social good
As part of the Data Science for Social Good internship program, sponsored by Georgia Tech and Oracle, GT students talked with farmers and volunteers over a 10-week period during the summer about crops, planting schedules, harvest requests, visitor demographics and other data crucial to daily operations. Urban agriculture, the students realized, is a complex undertaking. Their challenge was to create a streamlined data management system for the farm. Program Director and Professor Ellen Zegura said the program allowed students to solve real-world problems instead of relying on sample data sets, and it educated local non-profits on the need for better data systems.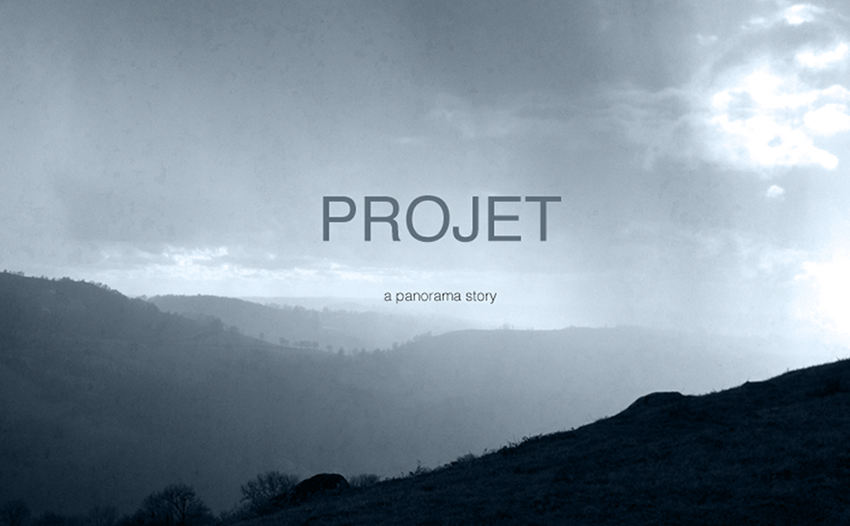 Bending narratives for new digital experiences
Projet is a location-based story using a panoramic visual effect and narration to transport the viewer metaphorically to the French Massif Central. Professor Jay Bolter discusses the project, which is intended as the first in a series of such narratives to explore how panoramas can establish the visual counterpart to text narratives, creating a sense of space and location.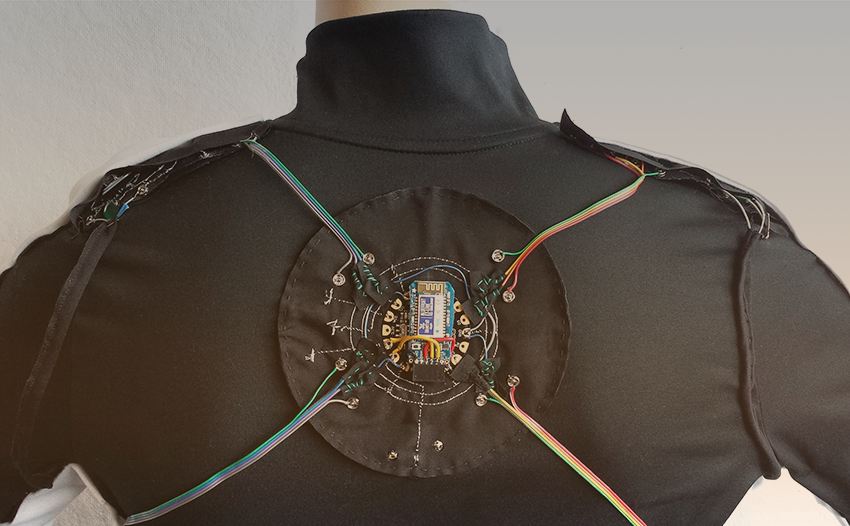 Wearable tech of many designs
Georgia Tech continues to advance several research innovations that are helping to shape a wearable computing future rich with applications. Among Georgia Tech's accepted work at the International Symposium on Wearable Computers in September was wearable dance technology that garnered a Design Exhibition Jury Award, and vibrating gloves that allow users to learn braille by simply wearing the haptic-enhanced device. The gloves were nominated for a 2014 Smithsonian People's Design Award.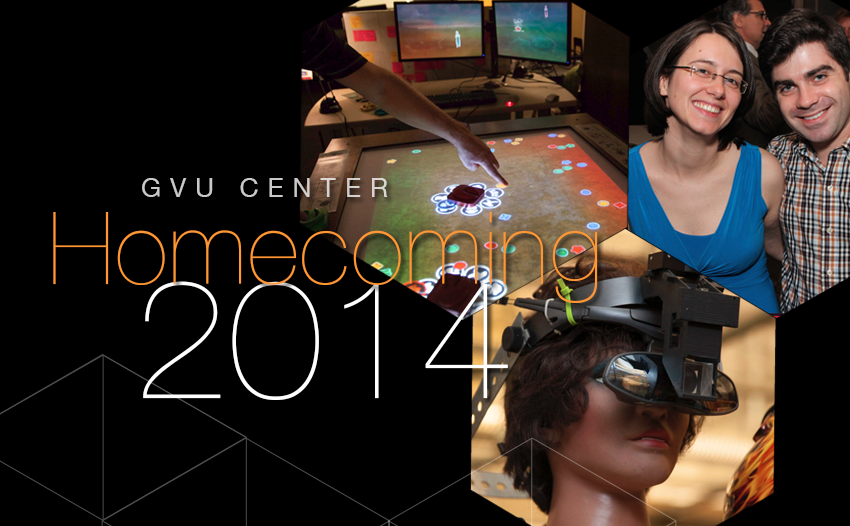 Research Showcase and Foley Scholars Dinner
The biannual GVU Center Research Showcase invited visitors in October to an alternate reality populated with artificial intelligences, devices to communicate with animals, augmented landscapes bending space and time, computer-embedded fashion garments, futuristic screen experiences, auditory technologies, and much more. Homecoming week also recognized the 2014-2015 Foley Scholars, whose work exemplifies computing-powered innovations that guide users through a rapidly shifting technology culture.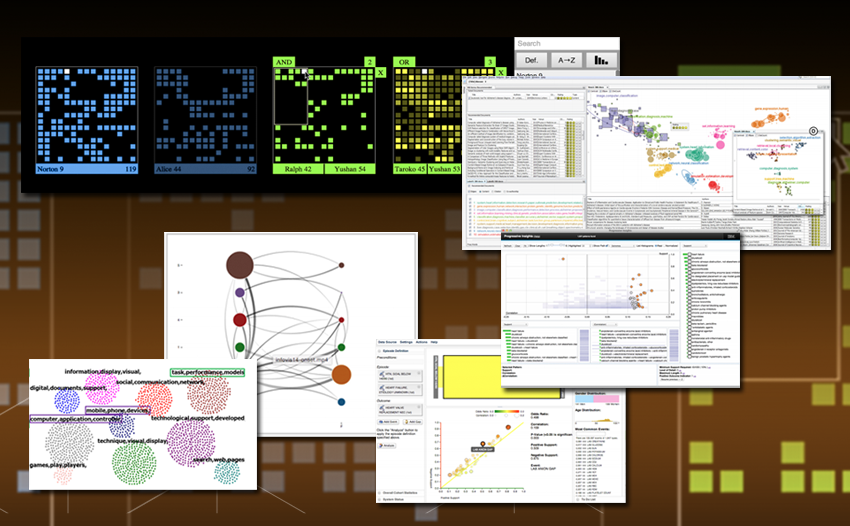 Visualizing the world, one data set at a time
At VIS 2014 - consisting of IEEE's joint conferences on Visual Analytics Science and Technology, Information Visualization, and Scientific Visualization - Georgia Tech researchers played a leading role in the proceedings, which marked the 25th anniversary of academic research in the field. Professor John Stasko, co-chair of the VIS25 committee, says there is a growing 'democratization' of data visualization where more people and organizations can now create sophisticated interactive visualizations due to some of the tools and toolkits that the research community has created. Georgia Tech's contributions this year provided both new visualization techniques and case studies of visualization applied to real world problems from areas such as finance, network cybersecurity, pediatric asthma care, and marine biology.

Graduate researchers discuss what drives them in their chosen fields
Human-Centered Computing doctoral candidates Alexander Zook and Deana Brown and Music Technology doctoral candidate Mason Bretan talk about what makes them passionate about their research and what it involves - the graduate work combines technical depth with a focus on human impact, at scales ranging from the individual to the societal. The researchers took time out at the end of the year to share their stories, which show not only insight into their research, but the collaborative nature of the community fostered by GVU founder and Professor James Foley.