Featured Projects
With their high cognition, engineer-like curiosity, and close relation to humans, orangutans are an extraordinary user to study. The project aims to provide animal care staff and organizations new methods in enriching the lives of animals in their care by creating applications with the Kinect for interactive projections.
Anonymity, ephemerality, and hyper-locality are an uncommon set of features in the design of online communities. However, these features were key to Yik Yak's initial success and popularity. In an interview-based study, we found that these three features deeply affected the identity of the community as a whole, the patterns of use, and the ways users committed to this community. We conducted interviews with 18 Yik Yak users on an urban American university campus and found that these three focal design features contributed to casual commitment, transitory use, and emergent community identity.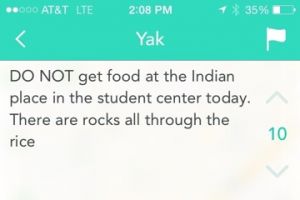 In collections of scientific and cultural history that are too big to see, metadata act as virtual handles for rare and delicate artifacts from the past. At the Arnold Arboretum, a collection of long-lived trees, vines, and shrubs managed by Harvard University, landscapes from around the world and across time are stitched together by metadata. However, metadata are worthy of study themselves. Created in varied social and technological eras, they register the organizational structures and values of their time.
GVU News
Eric Corbett, a Ph.D. student in Digital Media in the School of Literature, Media, and Communication, has received a $25,000 grant from Microsoft to help complete his dissertation on the role of trust and technology in local government.
GVU Resource Labs
App Lab
Built for Success
A mobile computing "hackerspace."
Visit the App Lab website
Location: TSRB 333
GVU Prototyping Lab
From Concept to Creation
A rapid prototyping "makerspace."
Visit the Prototyping Lab website
Location: TSRB Basement
Usability Lab
Testing Methods and Technology
An adaptable project testing space.
Location: TSRB 216