Featured Projects
This project visualizes health data within the Atlanta metro region. Although some research about health inequities among this region has occurred, it typically is based on county-level data. In order to have a better understanding of health inequities and disparities in our home area, a city profile for Atlanta should be established. This project has created an interactive visualization of data such as rates of teen pregnancies, low birthweight babies, etc. The system allows the viewer to explore correlations among the different variables.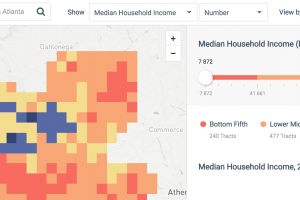 Healthcare delivery processes are complex activities that span organizational, spatial, and temporal boundaries. Systemic insights, redesign, and improvements are consequently difficult to achieve. Using existing digital healthcare data, we are developing a data-driven methodology, fusing computational systems modeling, data mining, and interactive visualization, to identify, describe, and visualize healthcare delivery processes. Our system will help providers (e.g. physicians, nurses, etc.) and strategic decision makers (e.g.
Recent discourses on smart cities have been primarily focused on the deployment of technical infrastructures such as sensor installation, data collection, and security measures. These practices, however, are accompanied with tacit and explicit ideas about ideal cities and human values. This paper presents the preliminary results of an ethnographic study that looks closely at the North Avenue Smart Corridor in Atlanta, Georgia aimed at unpacking the driving ideas behind smart cities initiatives and critically engaging its key assumptions of progress and efficiency.
GVU News
Studies have shown that passive haptic learning can help patients suffering from spinal injury. Can it also be an option in stroke recovery?

The podcast, called the Interaction Hour, is launching Tuesday, Sept. 18 and will be available on iTunes, Spotify, and Spreaker.

Georgia Tech faculty and students will travel to Munich, Germany to present their research at the European Conference on Computer Vision (ECCV).
GVU Resource Labs
App Lab
Built for Success
A mobile computing "hackerspace."
Visit the App Lab website
Location: TSRB 333
GVU Prototyping Lab
From Concept to Creation
A rapid prototyping "makerspace."
Visit the Prototyping Lab website
Location: TSRB Basement
Usability Lab
Testing Methods and Technology
An adaptable project testing space.
Location: TSRB 216