Featured Projects
Wearable systems play an important role in continuous health monitoring and can contribute to early detection of abnormal health-related events and facilitate the advancement of personalized healthcare. The neck is a unique sensing location because it provides access to a set of health-related data that other wearable devices simply cannot obtain. Activities including breathing, chewing, clearing the throat, coughing, swallowing, speech and even heartbeat can be recorded from around the neck.
Sensiotec, an ATDC startup, has developed Virtual Medical Assistant , the world's first FDA-cleared, truly remote, totally non-contact, real-time cardiorespiratory and patient motion monitor ' an invisible, non-wearable, contact-free system that provides scalable, high value, low cost, location-agnostic patient care.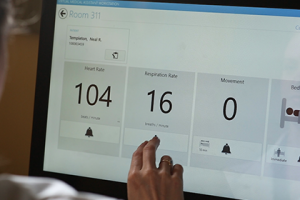 College students encounter many challenges in the pursuit of their educational goals. When these challenges are prolonged, they can have drastic consequences on health and on personal, social, and academic life. Our multi-institution project, called CampusLife, conceptualizes the student body as a quantified community to quantify, assess, infer, and understand factors that impact well-being.
GVU Resource Labs
App Lab
Built for Success
A mobile computing "hackerspace."
Visit the App Lab website
Location: TSRB 333
GVU Prototyping Lab
From Concept to Creation
A rapid prototyping "makerspace."
Visit the Prototyping Lab website
Location: TSRB Basement
Usability Lab
Testing Methods and Technology
An adaptable project testing space.
Location: TSRB 216