Featured Projects
Virtual reality as a medium and design space continues to grow, but we suggest that the range of experiences offered rarely stray from the first person perspective. Most experiences, especially video games, have the user directly embody their avatar. In Perspective is a project that explores alternate interfaces that place the user outside of the body of the avatars they inhabit and uses multiple forms of puppetry as design references for new interfaces that blend procedural and physical motion.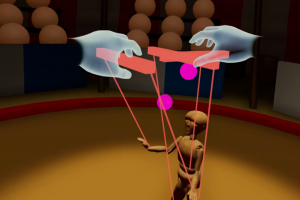 The Reflect! platform is designed to organize Reflective Consensus Building on Wicked Problems in small teams. Examples wicked problems are complex policy issues such as health care reform, poverty, global trade, or climate change; the regulation of new and emerging technologies; the design of products and technologies; and planning processes that involve different stakeholders.
This project is exploring ways of using air gesture technologies, audio and haptic to facilitate exploration of STEM concepts by blind and low vision learners. Efforts will establish the efficacy of this approach, as well as best practices for creating air gesture interfaces that support exploration of a virtual reality space such as a simulated atom, wind tunnel or electrical system- all without the use of vision.
GVU News
Eric Corbett, a Ph.D. student in Digital Media in the School of Literature, Media, and Communication, has received a $25,000 grant from Microsoft to help complete his dissertation on the role of trust and technology in local government.
GVU Resource Labs
App Lab
Built for Success
A mobile computing "hackerspace."
Visit the App Lab website
Location: TSRB 333
GVU Prototyping Lab
From Concept to Creation
A rapid prototyping "makerspace."
Visit the Prototyping Lab website
Location: TSRB Basement
Usability Lab
Testing Methods and Technology
An adaptable project testing space.
Location: TSRB 216