Featured Projects
This map visualizes demographic indicators of gentrification in neighborhoods (defined by census tracts) along the current and proposed path of the Atlanta Beltline, an "urban redevelopment" project under construction along a loop of disused railroad tracks that circumvent the city, stitching together some of its most historic neighborhoods.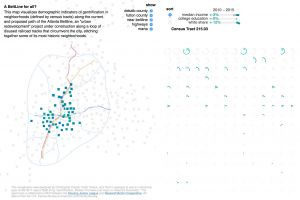 Exposure to diverse opinions makes us more informed and engages society in a necessary deliberation process. Inwardly focused groups risk tunnel vision and an inability to challenge their own views. Technically, online we can connect to anyone in the world but social network analyses of blogs and Twitter have shown that we stay connected in groups of like-minded others. There is untapped potential here for online environments to go further towards giving more access to diverse views. Incivility has direct consequences for relationships with others of different opinions.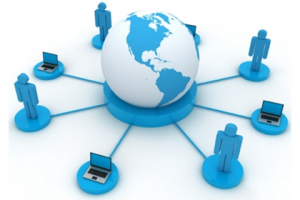 Part of the fun of computer games is to master the skills necessary to complete the game. Challenge tailoring is the problem of matching the difficulty of skill-based events over the course of a game to a specific player's abilities. We have devised a data-driven approach to predict changes in players' skill mastery over time. By modeling players' skill mastery, we are able to dynamically select game content that challenges individual players at the ideal level, avoiding frustration and boredom.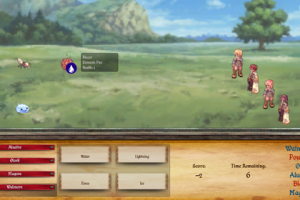 GVU News
Eric Corbett, a Ph.D. student in Digital Media in the School of Literature, Media, and Communication, has received a $25,000 grant from Microsoft to help complete his dissertation on the role of trust and technology in local government.
GVU Resource Labs
App Lab
Built for Success
A mobile computing "hackerspace."
Visit the App Lab website
Location: TSRB 333
GVU Prototyping Lab
From Concept to Creation
A rapid prototyping "makerspace."
Visit the Prototyping Lab website
Location: TSRB Basement
Usability Lab
Testing Methods and Technology
An adaptable project testing space.
Location: TSRB 216