Featured Projects
Lacking information provided about airport environments and route conditions makes it difficult for air travelers to plan indoor trips at airports and anticipate possible environmental barriers, which could lead to navigation difficulties. An application that provides real-time environmental information has been designed to facilitate trip planning at airports for travelers, especially those with functional limitations. In this project, we conducted a set of studies to define and further understand the problem of airport navigation and developed a mobile application as the solution.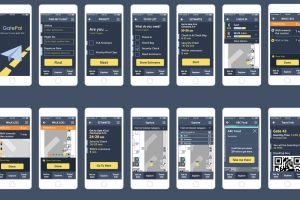 User interaction is central to the data analysis process fostered by interactive visual analytic interfaces. However, in many current systems, user interaction is represented as an ephemeral action taken by a user that moves the system from one state to another. User interactions are quantitative bits of the analytic dialog between people, the system, and the data - and when modeled - can be tactfully integrated into visual analytic systems. We propose a library to help researchers and developers capture, interpret, and model interactions in web-based visual analytic tools.
This research project is a MSCHI 2nd year Masters project that attempts to design a wearable device that will reduce distraction in classrooms by making it easier for professors to deal with technology issues that may occur (e.x. The wifi cutting out) in a way that will help them maintain focus on the subject matter of the class.
GVU News
Studies have shown that passive haptic learning can help patients suffering from spinal injury. Can it also be an option in stroke recovery?

The podcast, called the Interaction Hour, is launching Tuesday, Sept. 18 and will be available on iTunes, Spotify, and Spreaker.

Georgia Tech faculty and students will travel to Munich, Germany to present their research at the European Conference on Computer Vision (ECCV).
GVU Resource Labs
App Lab
Built for Success
A mobile computing "hackerspace."
Visit the App Lab website
Location: TSRB 333
GVU Prototyping Lab
From Concept to Creation
A rapid prototyping "makerspace."
Visit the Prototyping Lab website
Location: TSRB Basement
Usability Lab
Testing Methods and Technology
An adaptable project testing space.
Location: TSRB 216