Featured Projects
SCADE is a visual text analytic tool. The goal of the project is to help analysts make sense of a larger number of text document while tracking the analyst's provenance.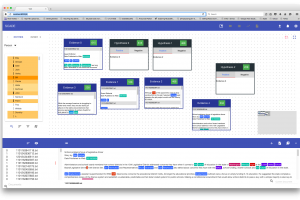 We design, deploy, and evaluate mobile health tools that support and meet patients needs over time from diagnosis of a chronic disease, through treatment and into survivorship. Our research explores the ability for personalized, adaptable, mobile tools to support patients over the course of their individual breast cancer journeys.
This project focuses on building technology for law enforcement working on human trafficking cases. We leverage available data to build tools that help law enforcement identify potential victims and collaborate with partners to best intervene in these cases. 
GVU News
Studies have shown that passive haptic learning can help patients suffering from spinal injury. Can it also be an option in stroke recovery?

The podcast, called the Interaction Hour, is launching Tuesday, Sept. 18 and will be available on iTunes, Spotify, and Spreaker.

Georgia Tech faculty and students will travel to Munich, Germany to present their research at the European Conference on Computer Vision (ECCV).
GVU Resource Labs
App Lab
Built for Success
A mobile computing "hackerspace."
Visit the App Lab website
Location: TSRB 333
GVU Prototyping Lab
From Concept to Creation
A rapid prototyping "makerspace."
Visit the Prototyping Lab website
Location: TSRB Basement
Usability Lab
Testing Methods and Technology
An adaptable project testing space.
Location: TSRB 216