Featured Projects
We are developing a suite of media experiences to introduce visitors to the rich cultural and economic history of Auburn Avenue. From about 1900 to 1960, Auburn Avenue was the center of African-American cultural and economic life in the city. The street also played a key role in the civil rights movement. From the 1960s on, the street suffered decline, and the local community disintegrated because of a range of social, economic, and urban planning factors.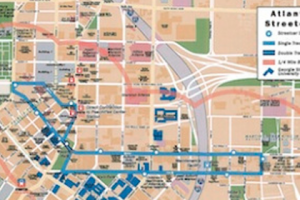 We are living in a multitasking society. We are experiencing an unprecedented level of sensory and cognitive overload, in which we have too many things going on at once, making us more likely to be absentminded. How to involve technology in promoting mindfulness and making it part of the process of achieving it is the question we need to answer in this project.
Social media have come to empower social movements across the world. One of the shared conditions that prompt people to turn to computing infrastructures is the collapse or inattention of established institutions to address the physical, social, and cultural conditions of oppression or insecurity. It is within this context that we examined the particular conditions in and around Mexico where citizens have turned to Facebook to catalogue data about local crime.
GVU News
Studies have shown that passive haptic learning can help patients suffering from spinal injury. Can it also be an option in stroke recovery?

The podcast, called the Interaction Hour, is launching Tuesday, Sept. 18 and will be available on iTunes, Spotify, and Spreaker.

Georgia Tech faculty and students will travel to Munich, Germany to present their research at the European Conference on Computer Vision (ECCV).
GVU Resource Labs
App Lab
Built for Success
A mobile computing "hackerspace."
Visit the App Lab website
Location: TSRB 333
GVU Prototyping Lab
From Concept to Creation
A rapid prototyping "makerspace."
Visit the Prototyping Lab website
Location: TSRB Basement
Usability Lab
Testing Methods and Technology
An adaptable project testing space.
Location: TSRB 216