Featured Projects
Giants in the sky is a Tangible User Interface (TUI) that explores the role of mass and gravity in the life and death of exosolar systems. With the use of various tangibles with different physical attributes, this TUI aims to teach basic concepts of astronomy in science museums. These tangibles allow users to create and manipulate digital celestial objects in a sandbox simulation.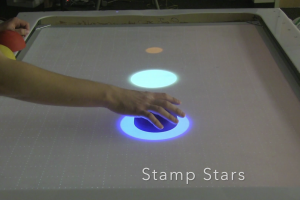 Modern sensor technology is beginning to allow for cost-effective deployment of air gesture interfaces in the vehicle. Unlike the current standard of direct touch, air gesture interfaces do not require that the driver takes their eyes off the road, especially when coupled with properly applied auditory or tactile feedback. While emerging systems like Apple Carplay and Android Auto support limited speech commands, the majority of tasks still require visually targeted touch interaction, which poses a safety hazard to drivers.
Seed is a sensor and electronics educational database developed for use at the Interactive Product Design Lab. The lab teaches designers electronic prototyping skills-- Seed assists in this mission by providing information on electronic components through an online database, physical RFID card library, and RFID sensing unit. Parts are categorized into 6 groups: logic, power, input, output, tools, and projects. When a student needs information about a component, they can select a card and place it on the RFID reader.
Upcoming Events
Guided by Ph.D. candidate Marissa Gonzales, explore research in the Design & Intelligence lab with Dr. Ashok Goel focused on exploring various methods for evaluating courses in the OMSCS program.

This talk discusses designing for exploration.
GVU News
The podcast, called the Interaction Hour, is launching Tuesday, Sept. 18 and will be available on iTunes, Spotify, and Spreaker.

Georgia Tech faculty and students will travel to Munich, Germany to present their research at the European Conference on Computer Vision (ECCV).

The research project is under a two-year, $300,000 grant from the National Science Foundation for faculty Lauren Wilcox, Betsy DiSalvo, Thomas Ploetz, and David Joyner.
GVU Resource Labs
App Lab
Built for Success
A mobile computing "hackerspace."
Visit the App Lab website
Location: TSRB 333
GVU Prototyping Lab
From Concept to Creation
A rapid prototyping "makerspace."
Visit the Prototyping Lab website
Location: TSRB Basement
Usability Lab
Testing Methods and Technology
An adaptable project testing space.
Location: TSRB 216