Featured Projects
How can we use AR in combination with Comic Artwork to shift attention from the page to the screen and back? The project combines HCI with the ninth art: comics. It applies design criteria from comic scholars and practitioners such as Will Eisner and Scott McCloud to develop effective AR designs for hybrid comic pieces. We will present a prototype sample of this project at work.
This is the first is a series of experiments in locative narrative. In this version, Projet is entirely screen-based. Later applications in this series will use Argon to create true location-based narratives. Projet itself can be experienced on a laptop or desktop screen, but there is greater intimacy and effect when experienced on a tablet or phone. A woman finds herself in a village in the French countryside, reflects on her present life, and recalls her past. Projet reduces the viewer's interaction to the barest minimum.
The goal of this project is to expand on the work done by Pamela Pryor and Jo Edwards (curators of the BellSouth calendar project), to remember, celebrate, and preserve stories of African Americans and Black-owned institutions in Georgia. The project consists of two parts an interactive exhibit and digital application. The exhibit and interactive installation will be located at the APEX (African-American Panoramic Experience) Museum in Atlanta, Georgia.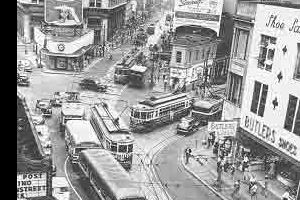 GVU News
Eric Corbett, a Ph.D. student in Digital Media in the School of Literature, Media, and Communication, has received a $25,000 grant from Microsoft to help complete his dissertation on the role of trust and technology in local government.
GVU Resource Labs
App Lab
Built for Success
A mobile computing "hackerspace."
Visit the App Lab website
Location: TSRB 333
GVU Prototyping Lab
From Concept to Creation
A rapid prototyping "makerspace."
Visit the Prototyping Lab website
Location: TSRB Basement
Usability Lab
Testing Methods and Technology
An adaptable project testing space.
Location: TSRB 216