Featured Projects
People often rank and order data items as a vital part of making decisions. Multi-attribute ranking systems are a common tool used to make such data-driven decisions. These systems are often table-based tools that can produce rankings based on numerical weights that a user assigns to each attribute, where the weight represents how important the user believes an attribute is to their decision. These systems assume that users are able to quantify their conceptual understanding of how important particular attributes are; however, this is not always the case.
With nearly four billion people still lacking access to the internet, efforts to expand internet access are growing rapidly across the world. Cuba remains one of few emerging nations where this access is still affected by historical trade embargoes and restrictions. Since the 2014 announcement of the normalization of relations between Cuba and the U.S., however, internet access in Cuba is increasing. This work is situated during this time of transition to explore the impacts of increasing internet access on individuals and communities living in Havana.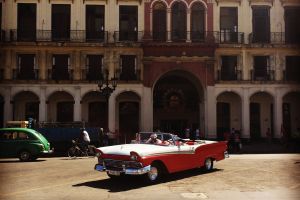 The Quixote system is an artificial intelligence technique for teaching robots and artificial virtual agents how to do things by telling them stories. Stories present a natural means of communicating complicated, tacit procedural knowledge. Quixote thus reads in natural language stories and learns to emulate the behaviors of the characters in the stories. The long term goal of the project is to make AI programming accessible to non-programmers and non-AI experts. We have also shown that stories can be an effective means of demonstrating ethical behavior to robots and AIs.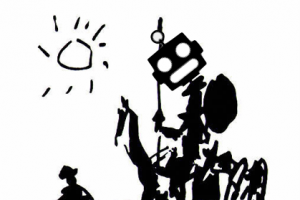 Upcoming Events
Guided by Ph.D. candidate Marissa Gonzales, explore research in the Design & Intelligence lab with Dr. Ashok Goel focused on exploring various methods for evaluating courses in the OMSCS program.

This talk discusses designing for exploration.
GVU News
The podcast, called the Interaction Hour, is launching Tuesday, Sept. 18 and will be available on iTunes, Spotify, and Spreaker.

Georgia Tech faculty and students will travel to Munich, Germany to present their research at the European Conference on Computer Vision (ECCV).

The research project is under a two-year, $300,000 grant from the National Science Foundation for faculty Lauren Wilcox, Betsy DiSalvo, Thomas Ploetz, and David Joyner.
GVU Resource Labs
App Lab
Built for Success
A mobile computing "hackerspace."
Visit the App Lab website
Location: TSRB 333
GVU Prototyping Lab
From Concept to Creation
A rapid prototyping "makerspace."
Visit the Prototyping Lab website
Location: TSRB Basement
Usability Lab
Testing Methods and Technology
An adaptable project testing space.
Location: TSRB 216