Featured Projects
Dressing is one of the most common activities in human society. Perfecting the skill of dressing can take an average child three to four years of daily practice. The challenge is primarily due to the combined difficulty of coordinating different body parts and manipulating soft and deformable objects (clothes). We present a technique to synthesize human dressing by controlling a human character to put on an article of simulated clothing. We identify a set of primitive actions which account for the vast majority of motions observed in human dressing.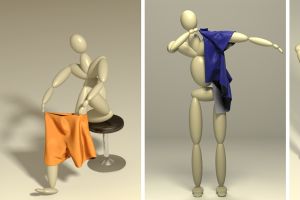 Every day, ordinary Internet users engage with complex copyright laws. Particularly in the context of creative work and appropriation, they are making decisions related to legal areas that are notoriously gray. Where legal knowledge is imperfect, social norms and ethical intuitions fill in the gaps. This research attempts to understand how these decisions are made, how norms and knowledge differ in different creative communities, and what lessons can be derived from online community management and design.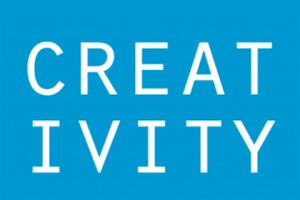 People with severe motor disabilities such as ALS may not be able to move their facial muscles to communicate. This study is examining the salient features of facial expressions in order to create "emotional prosthetics" - ways for people with disabilities to express emotion. The resulting prosthetics will be controlled by voluntary and involuntary brain signals.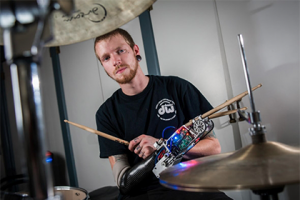 GVU Resource Labs
App Lab
Built for Success
A mobile computing "hackerspace."
Visit the App Lab website
Location: TSRB 333
GVU Prototyping Lab
From Concept to Creation
A rapid prototyping "makerspace."
Visit the Prototyping Lab website
Location: TSRB Basement
Usability Lab
Testing Methods and Technology
An adaptable project testing space.
Location: TSRB 216