Georgia Tech Envisions a Wearable Computing Future of Many Designs
As one vision of wearable computing technology was revealed to audiences worldwide in early September - in the form of the Apple Watch - researchers and technologists prepared to gather for the 18th International Symposium on Wearable Computers in Seattle, where they shared their own ideas and contributions to wearable tech.
With wearable technology gaining momentum in the commercial sector, Georgia Tech continues to advance several research innovations that are helping to shape a wearable computing future rich with applications. Among Georgia Tech's accepted work at ISWC 2014, Sept. 13-17, was wearable dance technology that garnered a Design Exhibition Jury Award, and vibrating gloves that allow users to learn braille by simply wearing the haptic-enhanced device. The gloves were nominated for a 2014 Smithsonian People's Design Award.
For the second year in a row, the Interactive Product Design Lab, directed by School of Industrial Design Chair and Professor Jim Budd, won the Jury Award for functionality at ISWC. Master's student James Hallam also won last year in Zurich, Switzerland with wearable gloves for stroke patients.
Hallam says his focus is on building technology that can be integrated into smart garments, while still being comfortable and usable. "I want the clothes to be functional – to help people recover from injuries, and to augment and understand more about what their bodies can do."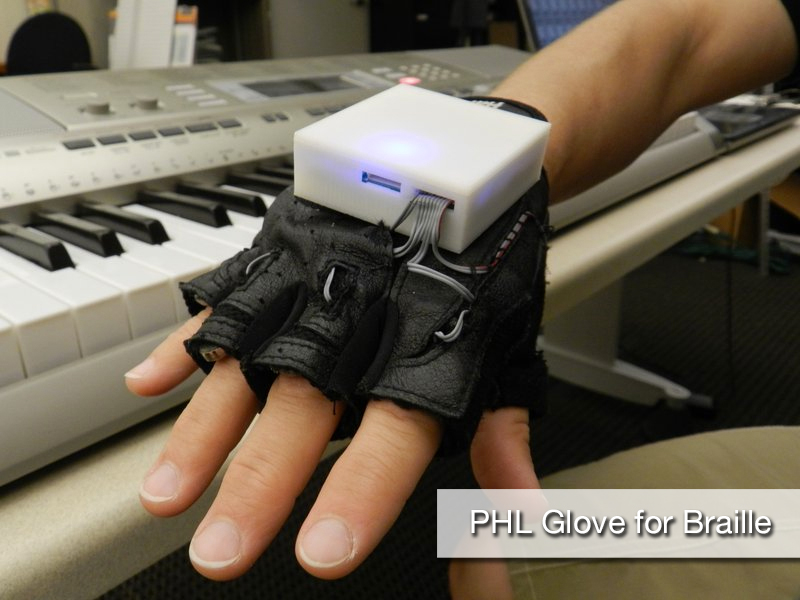 Google Glass technical lead and Professor of Interactive Computing Thad Starner, whose Contextual Computing Group had three accepted papers in the program, attended ISWC after speaking at a World Economic Forum meeting in China and showcasing the Georgia Tech-curated wearable computing exhibit there with Clint Zeagler, a research scientist in Industrial Design.
Melody Jackson, professor of Interactive Computing, is pushing the boundaries of wearable computing with her group's emerging work in animal-computer interaction, which Georgia Tech is helping pioneer. Her group's ISWC poster showed an experimental design for wearable tech usability for canines. Researchers investigated how the placement of on-body interfaces on dogs affects the ability of the dogs to reach the devices with their snouts.
More information on ISWC is available at http://iswc.net/iswc14.
Georgia Tech @ ISWC 2014
Papers:
Best Paper Nomination: "The Tongue and Ear Interface: A Wearable System for Silent Speech Recognition."
H. Sahni, A. Bedri, P. Thukral, G. Reyes, Z. Guo, T. Starner, and M. Ghovanloo.
(PhD student Himanshu Sahni presenting)
Best Paper Nomination: "A Comparison of Order Picking Assisted by Head-Up Display (HUD), Cart-Mounted Display (CMD), Light, and Paper Pick List."
A. Guo, S. Raghu, X. Xie, S. Ismail, X. Luo, J. Simoneau, S. Gilliland, H. Baumann, C. Southern, T. Starner.
(Anhong Guo presenting; Anhong is an MS alumnus and now a Ph.D. student at CMU)
"Passive Haptic Learning of Braille Typing"
C. Seim, J. Chandler, K. DesPortes, S. Dhingra, M. Park, and T. Starner.
(Ph.D. student Caitlyn Seim presenting.)
**Nominated for a People's Design Award by the Smithsonian.
Archived Poster:
"Canine Reachability of Snout-based Wearable Inputs."
G. Valentin, J. Alcaidinho, L. Freil, C. Zeagler, M. Jackson, and T. Starner
(Ph.D. student Giancarlo Valentin presenting)
Design Exhibition:
"Ballet Hero: Building a Garment for Memetic Embodiment in Dance Learning"
**Jury Award in Fuctional Category
James Hallam, Emily Keen, Christa Lee, Alison McKenna, Mudit Gupta
Doctoral School:
"Gestural Activity Recognition for Canine-Human Communication"
(Ph.D. student Giancarlo Valentin presenting)
Related Links:
Glass Research Explorers @ GVU
"The Path Towards a Consumer Wearable Computer" Exhibition
Georgia Tech Industrial Design: Wearable Tech Showcase
Fashion (Far) Forward