Faculty:
Janet Murray, Mariam Naziripour
Twitch Plays Improv is an experiment in participatory narrative creation that utilizes the live streaming video platform Twitch.tv as an arena for broadcasting improvisational theatre games. Drawing on the structures and implications of the "Twitch Plays Pokemon" phenomenon, Twitch Plays Improv digitizes the performative and participatory conventions of improv, allowing actors and audience members to collaboratively develop dynamic scenes and stories.
Lab: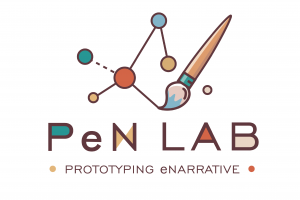 The Prototyping eNarrative Lab (PeN Lab) at Georgia Tech applies digital information design and interaction design principles to digital storytelling to create more complex and expressive narratives, focusing on emerging platforms like experimental television, virtual reality, and augmented reality, and on the intersection of storytelling with game design and simulation design.