Faculty:
Anne Pollock, Nassim JafariNaimi, Lewis Wheaton
Students:
Regan R. Lawson, Charles Denton, Shubhangi Gupta, Christina Bui, Pragati Singh
Eyes darting or maintaining a steady gaze straight ahead. Heartbeat racing, or maintaining a slow, even rhythm. If we encounter these phenomena in another, how do we respond - not just effectively, but physiologically? Eye movements and heartbeats are among the most intuitively meaningful physiological characteristics that humans observe in one another. Without necessarily consciously realizing it, we often respond empathetically. This project brings together humanities scholars and physiology scholars to create an art installation that uses representation, tracking, and visualization to investigate and reflect upon the physiology of empathy. The installation renders video of eye movements and audio of heart rate of a virtual person and tracks the eye movements and heart rate of an observing user. We anticipate a mirroring, empathetic physiological response from the user, in which their heart rate also speeds and slows in conjunction with the virtual person. Immediately after the experience, the user will be provided a visual and auditory representation of the data, in order to see and reflect on this empathetic engagement, and also provided with a link to a copy of the video by email if they so choose. The playback could be either in real time or in a time that is set to either the virtual person or the user's heart rate as a metronome, to allow a distinctively human-centered exploration of the data.
Lab: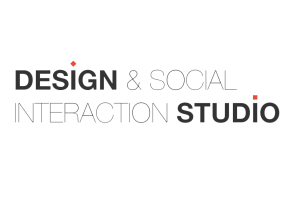 Students:
Aditya Anupam, Sylvia Janicki
Design and Social Justice Studio brings an interdisciplinary group of faculty and students together to examine the experiential and participatory dimensions of digital media and their relationship to establishing and supporting democratic forms of social interaction. Research at the studio spans both theoretical inquiry and experimental design, situated at the intersection of Design, the Humanities, and Human Computer Interaction. We design and investigate a variety of design products and services (e.g., locative media, visualizations and mapping, policy media, social and educational media) drawing on a range of design methods and strategies, most notably participatory and co-design methods, ethnographic methods, and experimental designs.
Projects are often in collaboration with other units on campus, other schools, as well as local non-profit organizations. Among current collaborators are Schools of Public Policy and Electrical Engineering at Georgia Tech; the iSchool at the University of British Columbia; Mayo Clinic; and local organizations such as Marcus Autism Center, Children's Healthcare of Atlanta, Fulton County Department of Health, and Central Atlanta Progress.